A new
Chemical Shelter ISO 20' 1C
, compliant with STANAG 4632, designed and manufactured by Tekne will be delivered to Tunisia MOD under DIMLAB NATO-SPS project with the advice of two scientists from Tunisia: Prof. A.Abdelghani and Prof.Karim Ben Ali.

Reference picture
The mobile (deployable) laboratory will be used
for the detection, identification and monitoring of hazardous chemical agents
. It will be able to operate across the full spectrum of scenarios, especially crisis response. It will be self-sufficient for a minimum period of 72 hours following deployment and it will be able to decontaminate personnel, materials and equipment.
The laboratory will be entirely designed and manufactured by TEKNE in full collaboration with the End User MOD Tunisia to be delivered as a full turn-key solution.
Based on current references, it will have the following characteristics:
20 feet ISO 1C Container - homologated to be transported fully transportable by sea, land and air on C-130J aircraft
Equipped with a self-lifting and self-levelling system
Completely air-tight and water-tight
Shelter basic module composed of four separate areas: Changing room, Pressurized decontamination showers area, Laboratory room, Technical area
HVAC system
NBC filtration system: Pressurization and HEPA/Carbon filter
Fume hood with dedicated decontamination system
Glove box with dedicated pass-box and decontamination system
Fridge/freezer
Internal walls made of stainless steel - easy to decontaminate and resistant to the action of commonly used decontamination products
Electrical system 220V/50-60 Hz
Capable to adopt external domestic power supply
Emergency power generator within the technical area
UPS (uninterruptible power supply) serving the main equipment
Water system:

300 liters fresh water tank
350 liters grey water tank, accessible from outside for cleaning

Safety water outlets (eye-wash and basin)
Fire sensors
Communication system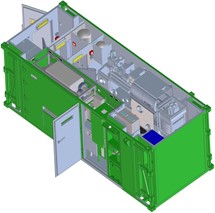 Reference picture
Discover our
CBRN Labs